Caring for your house rabbit
Rabbits are unique creatures, and their care and happiness depends upon things quite different from a cat or dog. Having said that, if you can appreciate the unique nature of rabbits, they can be wonderful companion animals. 
If you are considering if a house rabbit is a good choice for you, or if you have a new house rabbit and want to review the basics, see "New to Pet Rabbits" on the House Rabbit Society website. Articles, videos, lots of great info. 
If you want to learn more about the needs of rabbits, review "Care & Behavior" on the House Rabbit Society website. 
Regular vet care, including yearly checkups, are important. It's very important to establish a relationship with a vet, and have the know your rabbit, before an emergent health issue arises. Learn more at "Health and Veterinary Needs" on the House Rabbit Society website.
Learn more about a variety of topics in short articles that are part of the House Rabbit Journal, the publication that members of the House Rabbit Society get. They have a number of older journals available online for digital perusing. 
Check out issues of the House Rabbit Journal.
There certainly are other resources for house rabbit care information. But frankly, many of them just copy or reuse information published by House Rabbit Society! So just go to the source. Marinell Harriman, HRS founder and the author of House Rabbit Handbook (no longer in print, last edition put out in 2013, used copies can be found at independent book resellers), had a huge commitment to spreading the word about how unique and wonderful rabbits can be as companion animals.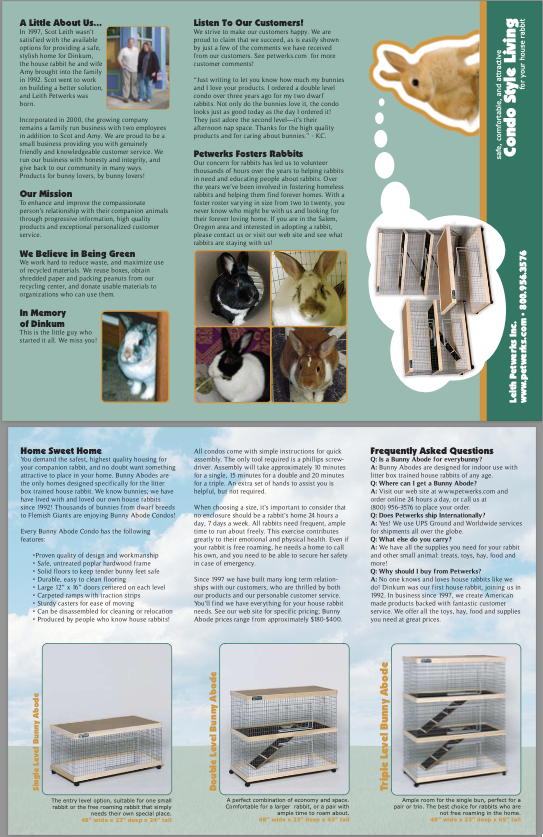 Back in the days of print...
Check out this PDF of a trifold we published back in 2012! Designed by Amy, we had a blast making this.
View PDF